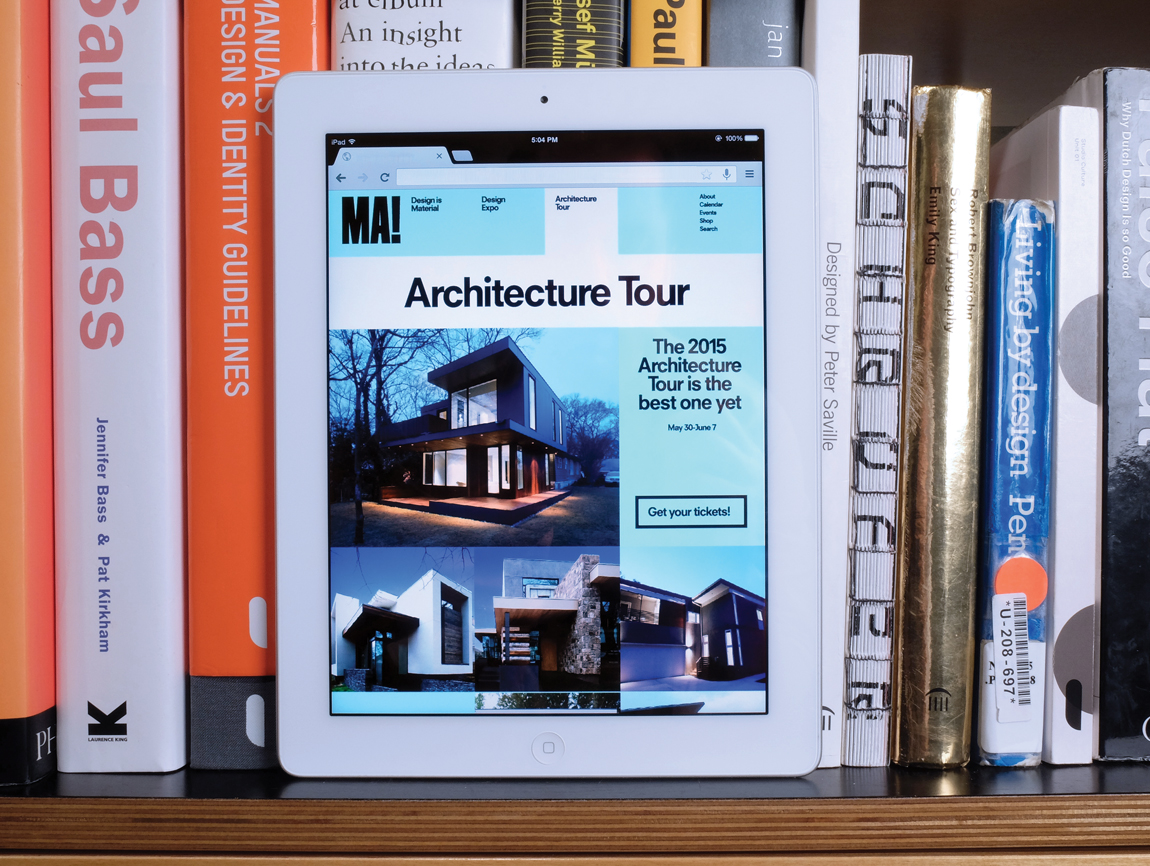 Design is invisible
Armchair talks about our new website
When MA began back in 2007, we believed we had a great idea: to showcase the best in contemporary architecture and design, and do it in a city on of the verge of becoming an international metropolis. We didn't know how people would respond, but we were pleasantly surprised by a sold out architecture tour and launch party. That's when we knew Atlanta was ready for a real design event. In 2008, we added interactive design programming such as featured speakers, films, satellite events, and an international design expo. All the while keeping the brand and events focused on fun, education, and accessibility. Our design partner Armchair embraced MA and demonstrated their sought-after talent with the instantly recognizable and iconic MA logo, the ever-collectible Design is Human Book, and a website.
MA has grown into its goal of being a commerce platform for international brands to promote their products and services. Yet we're still a little underground (and we like that). MA has received press from all over the world. We are expanding our tours and programming into other cities. We've seen hundreds of modern residences and commercial spaces being built in Atlanta – a city finally being recognized as an incredible destination for great design. We like to think we had a little bit to do with that.
Because of all this, we decided the MA website needed to take an awesome leap. We partnered with Armchair to make that happen. We sat down with Armchair's Senior Account Executive, Hollis Wright, Director of Technology, Nate Steiner, and Creative Director and Partner, Stefán Kjartansson to pick their brains about their company, the new MA website, and web design in general.
MA: We have a long history together, but tell us little bit about Armchair.
Stefán Kjartansson: We're a group who are passionate about design, visual communication, meaningful content as well as seamless way-finding. We love helping clients connect with consumers, especially in screen-based platforms. I started Armchair back in 2001 with the same team that founded CNN.com.
MA: That's a unique start to a design agency, what else is different about Armchair?
SK: People, passion, and talent. We've been able to attract some of the best strategists, developers, and designers that Atlanta has to offer. They all care deeply about what they do and aren't satisfied with just doing good work — they always push for the great, the world-class.
MA: MA has certainly benefitted from that.
SK: MA is a creative lifeline for Armchair because it enables us to create our most personal and best work — it really stands for something. It's also been a long friendship — we've practically grown up together since our first meeting in 2005. The creative process gets better every year. We research, experiment, make mistakes, change our minds, and allow each individual to add to the whole.
I sometimes use music metaphors to describe this: the melody originates with Bernard, then we all jam on it until we arrive at a composition. One year the design of the MA book evolves into Avant Garde Jazz with a lot of improvisation, the next year the vibe is Math Rock, laid out with more complex rhythmic structures — but every year it's uniquely MA.
MA: As we worked together on the new MA website, how did this process translate to digital?
SK: Re-designing the MA site was not only an opportunity to create a better tool for content, business, and marketing — but also to make the aesthetics more exciting. The homepage is a simple, long-scrolling tease of content — a quick scan of MA headliners. It's laid out on a matrix-like grid, creating visual movement as users click from page to page. The colors are refreshing but stark, giving the spotlight to the content.
MA: What was the biggest challenge with building the new site?
Nate Steiner: Choosing the right technology path. These days there are so many platforms, languages, and services available, it can be tempting to try out the latest and greatest before getting the benefit of experience. In the end though, we ended up with Kirby CMS, which has proven to have the right balance of simplicity and flexibility for MA.
MA: Clearly there's a lot that goes into it... what's your idea of a perfect website?
NS: There are so many kinds of websites, with different purposes and audiences, that a common source of greatness is difficult to isolate. The best measure is not specific to websites, but one that applies to all kinds of designs and objects we interact with — namely intention. Websites or services or apps built with intention have an understanding of history and context, they reveal an empathy for their audience, and exhibit a high level of craft in production.
Hollis Wright: Websites are a snapshot of an ever-evolving experience of a brand or story. They're are also expressions of compromise and constraint – whether technical, design, or even timeline. There are a few elements that make up "perfect" or (nearly perfect) websites. The first two should be nearly invisible: simple, intuitive design, and smart technology. The third should be unmistakeable: breathtaking content.
MA: So what's the difference between designing for web and print?
HW: Designing a website, at least at Armchair, is a hugely collaborative effort, while many other traditional mediums can be largely independent. Websites can, and should, constantly evolve in design, functionality and content. Launching a site is like the first birthday of a child who will go out into the world, learn some things, and adapt and grow along the way.
MA: How did you all get interested in designing websites?
SK: My first experience with the internet was connecting on a 24.4K dial-up modem and searching for Tom Waits lyrics. Just
the sheer idea of being able to reach something that obscure was a game- changer for me. It's hard to imagine now, but everything was so bitmapped and pixellated with blinking underlined links. It was the Wild West for a graphic designer.
Most of all I love creating something beyond borders, visible to anyone, anywhere at any time.
HW: I remember the AOL interface as the first "web thing" I ever saw. That was more of a computer program that connected
to the internet via a series of meeps and grunts. The next thing I remember is either Netscape or Ebay. The ever-changing, always evolving, seemingly boundless nature of the web is the thing that most captures my interest.
NS: My father exemplified for me how an interest in arts can mix well with an interest in technology. He is both a classical violinist and a ham radio enthusiast. He can perform concerts in front of an audience and also construct amplifiers from scratch. In a parallel way, I've held an interest in both computers and art since I was a kid. Instead of keeping them separate, like my father has, I've found the intersection where design meets implementation (front-end web development) to be very satisfying.
MA: What are you seeing in current web design trends?
HW: The biggest trend is designing a system of components. Rather than designing a handful of fixed page templates, components can be slotted and reused throughout a website to build an infinite number of pages configurations. For Armchair, this approach started when we began to design for tablet and mobile devices, which favor stacking components on a long scrolling page rather than next to each other in columns. We designed our first fully responsive website four years ago. Today it pretty much comes standard.
NS: For developers, the number of tools available has exploded lately. Thanks largely to the Node Javascript environment, we have new ways to automatically optimize images, generate compiled scripts, and other time savers. These tools not only help us work more efficiently, they free us up to break old patterns for the ever-evolving media we develop.
MA: Finally, the big question, where do you see the web headed?
HW: The web is becoming more and more "bite-sized". If technologies like the Apple watch take off, it is going to be about communicating with people
not in 140 characters, but in a handful of characters for a few seconds at a time. Simultaneously, the web has also become a place to tell really beautiful, rich longform stories. In general, there's a feeling that people spend more and more time on the internet but less and less time on websites.
SK: Yeah, fast moving technology keeps us on our toes, but it has allowed us to create a future-proof MA website that is modular, componotized and optimized for all devices. But we never forget the most important part of any design, the human- to-human communication. Users are able to experience MA online as they are in real life, a fun place to discover great design, tour interesting modern buildings and buy innovative products.
MA: It's great to hear about your process and approach. The MA website is now live at ma-designishuman.com.
Advertisement