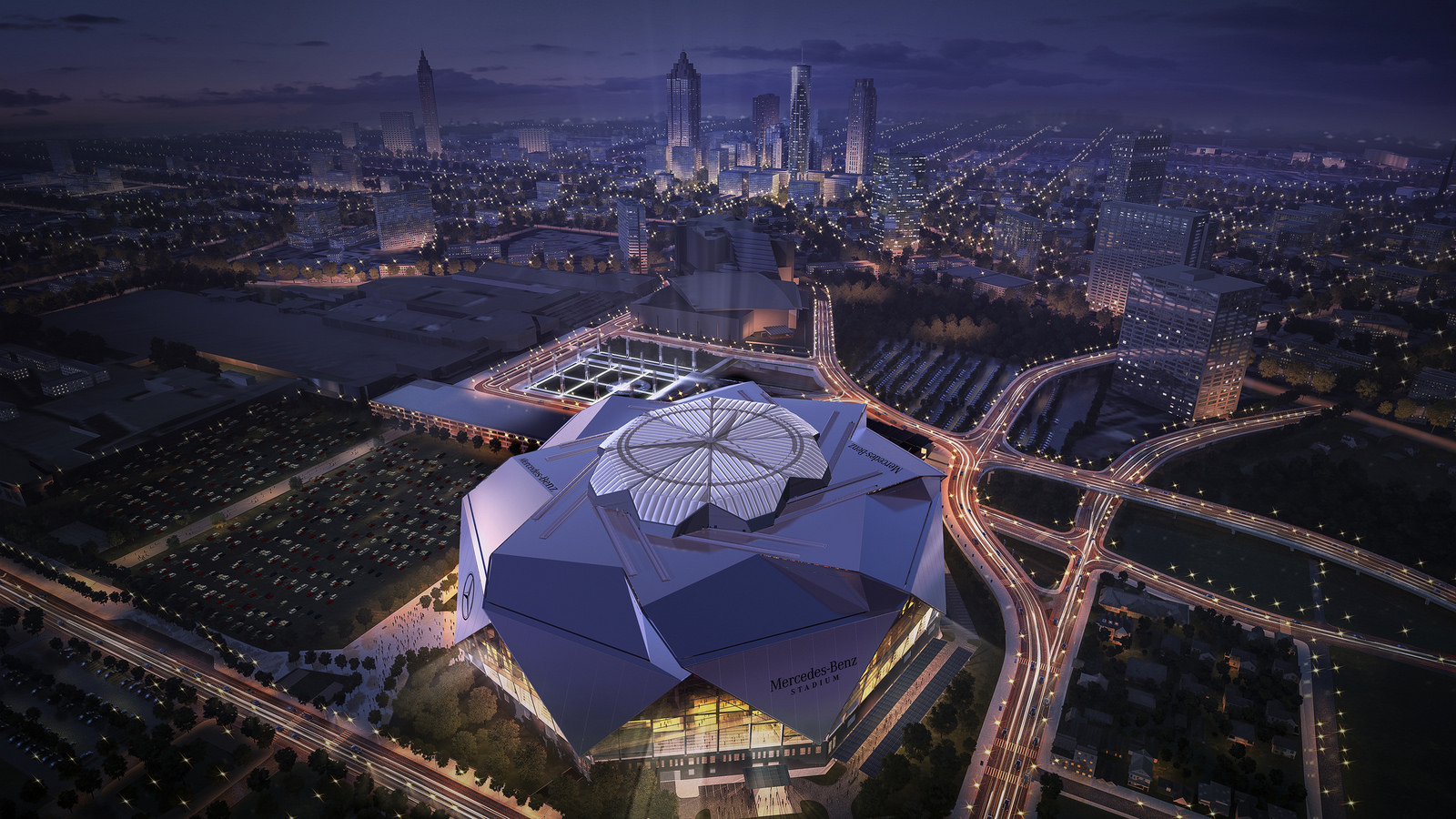 Atlanta. Mercedes Benz reimagines the Stadium Experience
How are the design economy, technology, and sustainability shaping the 1.5 billion dollar Mercedes-Benz Stadium, the new home of the Atlanta Falcons and other teams?
In an exclusive MA! interview, MA! cofounder Elayne DeLeo got answers from Rich McKay, president of AMB Sports and Entertainment, and Bill Johnson, senior vice president and design principal of the acclaimed architecture firm HOK.
Elayne DeLeo: A stadium is more than just a building. It's part of a city, its culture and economy. What was your vision to create a public space that embodies Atlanta, Mercedes, and sports?
Rich McKay: Arthur's [Arthur Blank, owner of the Atlanta Falcons] vision was to build the best sports and entertainment venue in the world, and we've held to that bold vision. We purposefully designed this building to be a centerpiece for this city and showcase its skyline in a grand way with our Window to the City, reminding guests they are in the heart of Atlanta. Additionally, this building will feature a plaza area and have an adjacent green space that will be activated 365 days a year for Atlantans and guests to enjoy. Mercedes-Benz and the mentality of "best or nothing" seem like a natural fit with the elegance and unique design of the building. The scalability of the building to seamlessly transform from NFL games to MLS matches to NCAA basketball is an important design element and helped us attract major sporting events.
ED: Stadiums have a multitude of technical and structural requirements. How difficult is it to design a stadium?
Bill Johnson: While there are basic guidelines for fan safety, comfort, sight lines, and amenities, the facility type itself is rather complex because of evolving fan expectations, technology, and the multipurpose nature of the modern sports facility. The structural systems are generally similar from venue to venue in terms of materiality and how they are assembled. These best practices inform the design of the seating bowl and much of the structure. The interesting challenge comes as we seek to create an iconic design statement for a venue type that, traditionally, has been rather utilitarian in nature. This desire to make something highly efficient and aesthetically beautiful is where the technical and creative opportunities arise.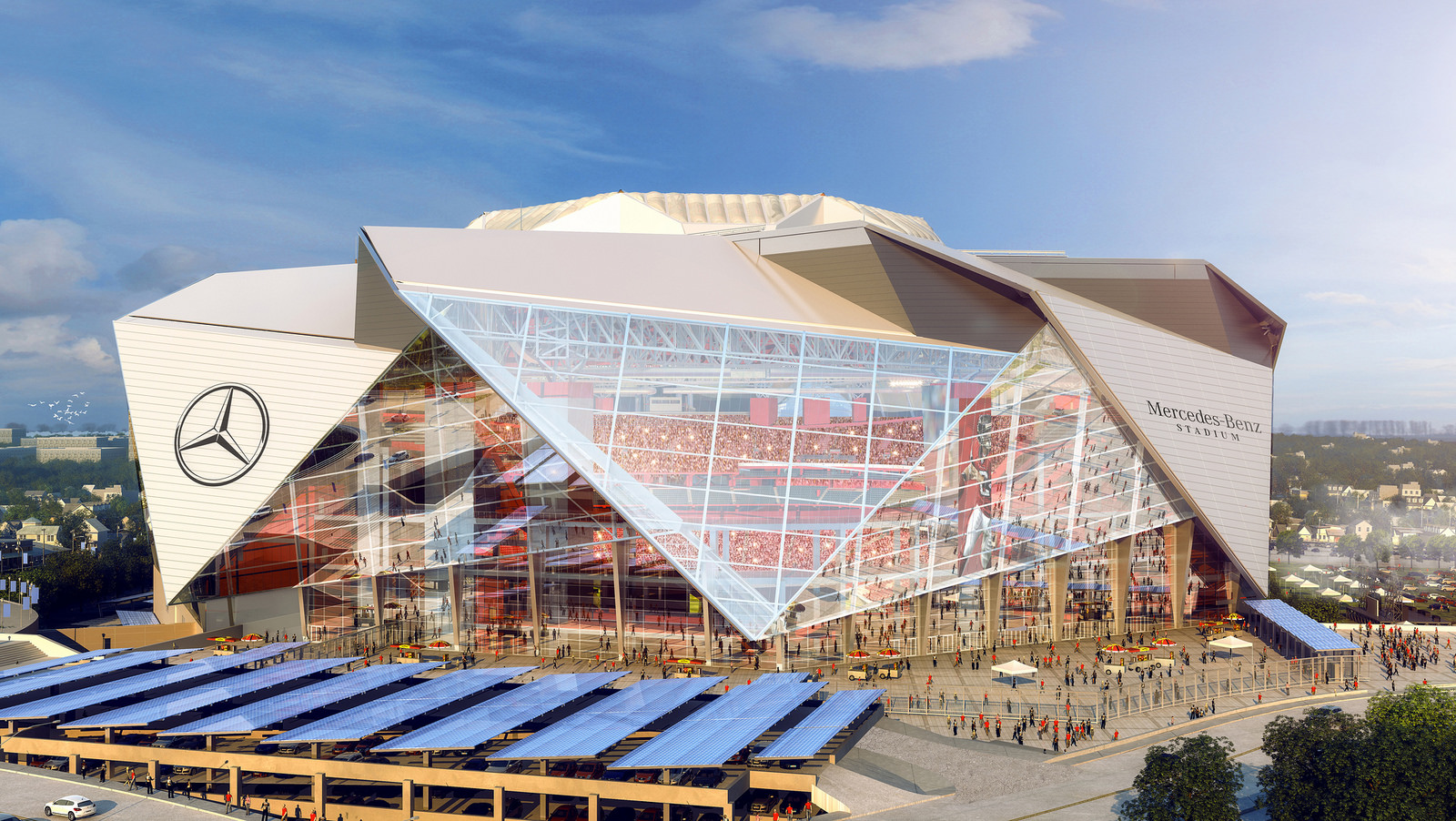 ED: Can you describe the evolution of stadium design?
BJ: Stadium design has changed rapidly. Early on, stadiums were driven solely by function, with minimal amenities or services and little regard for the overall fan experience. These buildings were both simple and straightforward. Many were designed as multipurpose facilities but were limited, however, because at the time they lacked the technology to easily transform the seating bowl from one sport or event to the next. We then saw a departure to sport-specific stadiums—designed for one team, but often rather simple in their design. These buildings started to introduce premium experiences, but without much diversity in seating product. Now, multipurpose facilities like Mercedes-Benz Stadium are challenging the status quo by providing a sophisticated approach to design. They create engaging, diversified experiences for fans through social spaces, thoughtful amenities, and connectivity to the surrounding neighborhoods through public plazas. They can also serve multiple sports and events easily because of technology and innovation, allowing buildings to be highly functional and adaptable.
Video: Mercedes Benz Stadium Roof Close Timelapse. Courtesy HOK
ED: In your view, what is the single most important part of the stadium's design?
BJ: I believe that what Arthur Blank and his team have done in Atlanta will transform the industry. He had the foresight and vision to push boundaries through design, technology, sustainability, and the fan experience. While it's difficult to pick a single feature because each aspect of the design impacts the next, the retractable roof, halo video board, and window to the city are undeniably notable. But what I appreciate most about the design is that one, it is an environmentally responsible design solution on a very large scale, and two, it was thoughtfully designed to create an engaging experience for fans every step of the way.
RM: I do not look at a single element, but rather at the fact that we tried to design every element of the stadium from the fan's perspective rather than from a revenue perspective.
ED: In 2019 millions of people watching the Super Bowl will be looking at your architecture. What would you like people to feel when they see it?
BJ: We hope spectators feel a sense of awe and interest—as if it's unlike anything they have seen or experienced. This is a building that is much more than a place for a game. It's an iconic symbol for the City of Atlanta.
More Mercedes-Benz Stadium
The new home of the Atlanta Falcons and Atlanta United, Mercedes-Benz Stadium will open in 2017. The stadium will also host numerous other sports and entertainment events. The multi-purpose venue will feature flexible capacity that can expand to up to 83,000 seats; a retractable roof structure inspired by the oculus in the ancient Rome Pantheon; views of the Atlanta skyline; a 360-degree HD video halo board that, at nearly six stories tall and 1,100 linear feet in diameter, will be the largest in the NFL and the world; an exterior fan plaza that will provide fans with pre- and post-game entertainment; and a technology lounge offering a unique game day experience full of media content and full game immersion.
Headquartered in Atlanta, MBUSA is responsible for the distribution, marketing and customer service for all Mercedes-Benz products in the United States.
Advertisement