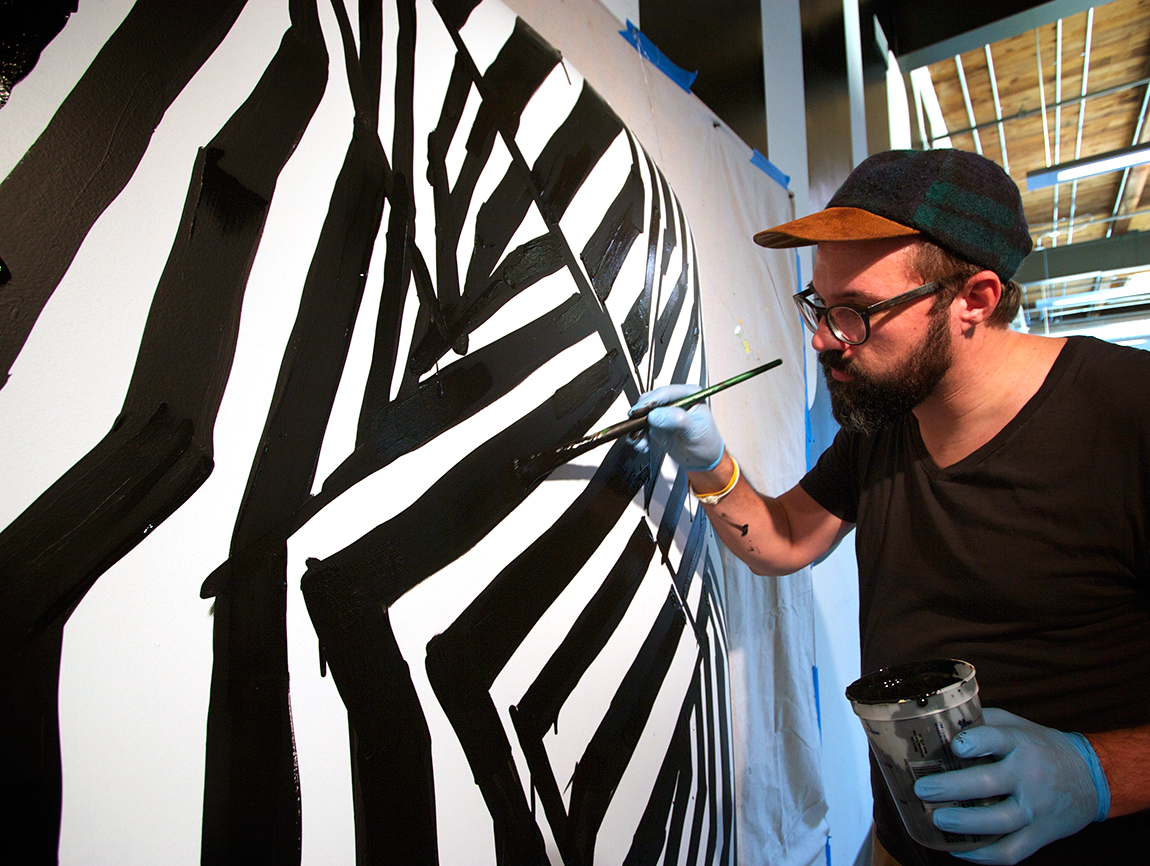 Installing Kevin Byrd
Atlanta artist Kevin Byrd is getting pulled in every direction
MA: Hey Kevin, where are you right now?
Kevin Byrd: I'm in San Fransisco at Dolby Digital, a sound company about to move into a new building where I've been asked to curate all the art including environment graphics and way-finding graphics. It's a really great match for my strengths. I met with artists and am walking the space, just getting a good feel for the job ahead. Also exciting about this project
is the opportunity to work with tech art in 2D and 3D, when you walk by and the art does something, that sort of thing.
Graphic designers Stefán Kjartansson and Farbod Kokabi are both contributing work. The project is a wholesome mix
of national and international graphic designers, artists, illustrators, ranging from Iceland, Berlin, UK, Portland, Nashville,
San Fransisco, New Orleans and some contacts I have in Atlanta.
MA: When did the commission start?
KB: I've been working on this since the beginning of the year. Laying out a creative strategy, I'm pulling experience from my architectural background as far as planning and logistics. I'm in San Fransisco about once a month at a week at a time.
MA: Are we talking about a new building or one that is repurposed?
KB: It is a repurposed building. It is 16 stories located in a section of the city called Mid Market next to Twitter and other tech brands and startups. There is lot of focus and detail going into the building's interior architecture. A LA based architecture studio called Gensler is responsible for the building's redesign. My job is to add moments of color and delight to the building's interior. I'll be curating the lobby area which also serves as an public exhibition space. The project is at a really good scale.
MA: Do you enjoy living and working in San Fransisco?
KB: I've been here on and off about 20 times. Each time I visit, I stay in a different part of the city and try to experience as
much as possible.
San Fransisco is probably on of my most favourite American cities to visit. The city is at a good scale and you really can't
beat the weather.
MA: It has been a while since you and I last connected.
KB: Since leaving the corporate environment in 2013, I've kind of have been on my own. I started out doing art installations. The High Museum commissioned me to do an installation based on my work with fluorescent light fixtures. I'm pretty much just doing more large scale work like the fluorescent installation I did at the Goat Farm. You know that building with the dilapidated shell. Both installations helped me get noticed.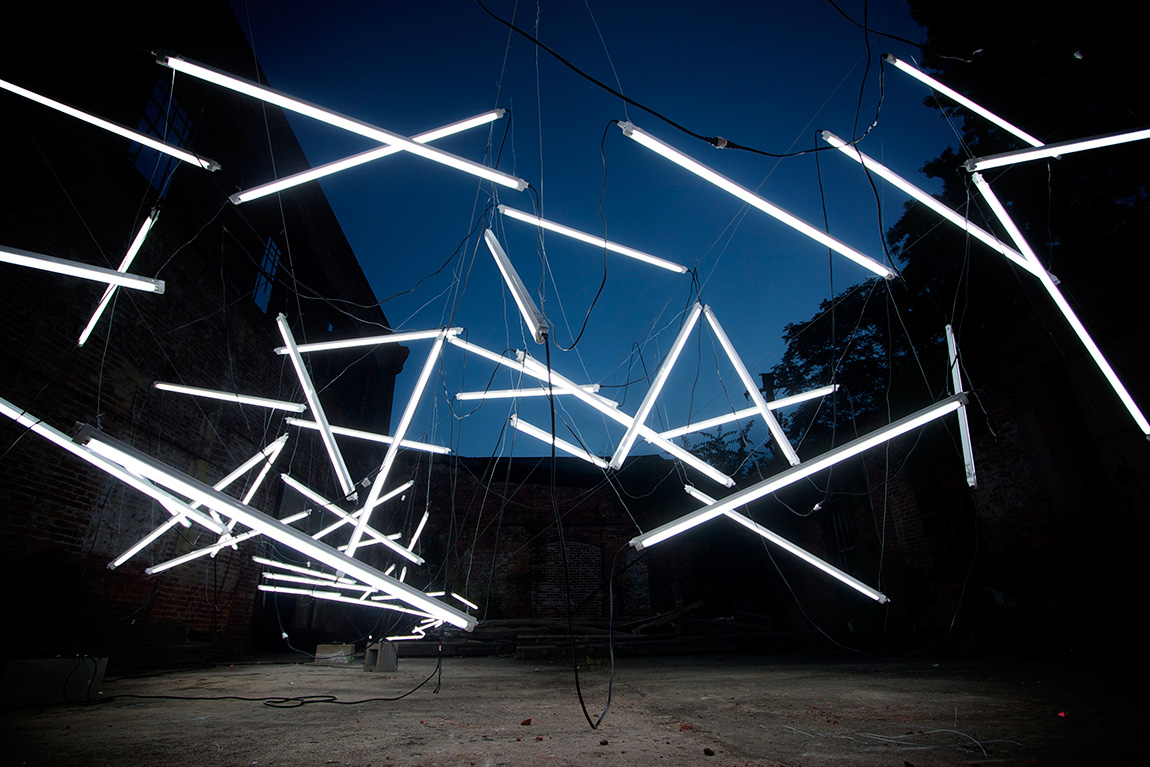 MA: That raises an interesting question. Are you an artist or graphic designer?
KB: Lately and professionally, I'm introducing myself as an artist more so than as a designer. But here is the thing, it takes some of the same talent as far as how you approach a project. I say I'm an artist because that is what I want to be. And with this project with Dolby, it is satisfying to commission and work with other artists. You know in two to three years I may be calling myself something else. At the end of the day, I'm really happy with what I'm doing being an artist.
MA: Can you talk a little about your projects with Goat Farm?
KB: They are opportunities that presented itself. The projects organically grew in scale over time. I did a project part of an
Atlanta event called Elevate, where the Goat Farm rented a bunch of dumpster and permeated them around public space and each artist had to make an installation of the dumpsters. These represents opportunities to develop concepts at various scales. My work with fluorescent lighting came about through designer David VanArsdale who had a lot of leftover lights and donated a couple hundred to me. The project was amazing and continues to draw attention to my work, and has taught me that art is shifting more to that of a service and being temporary in nature.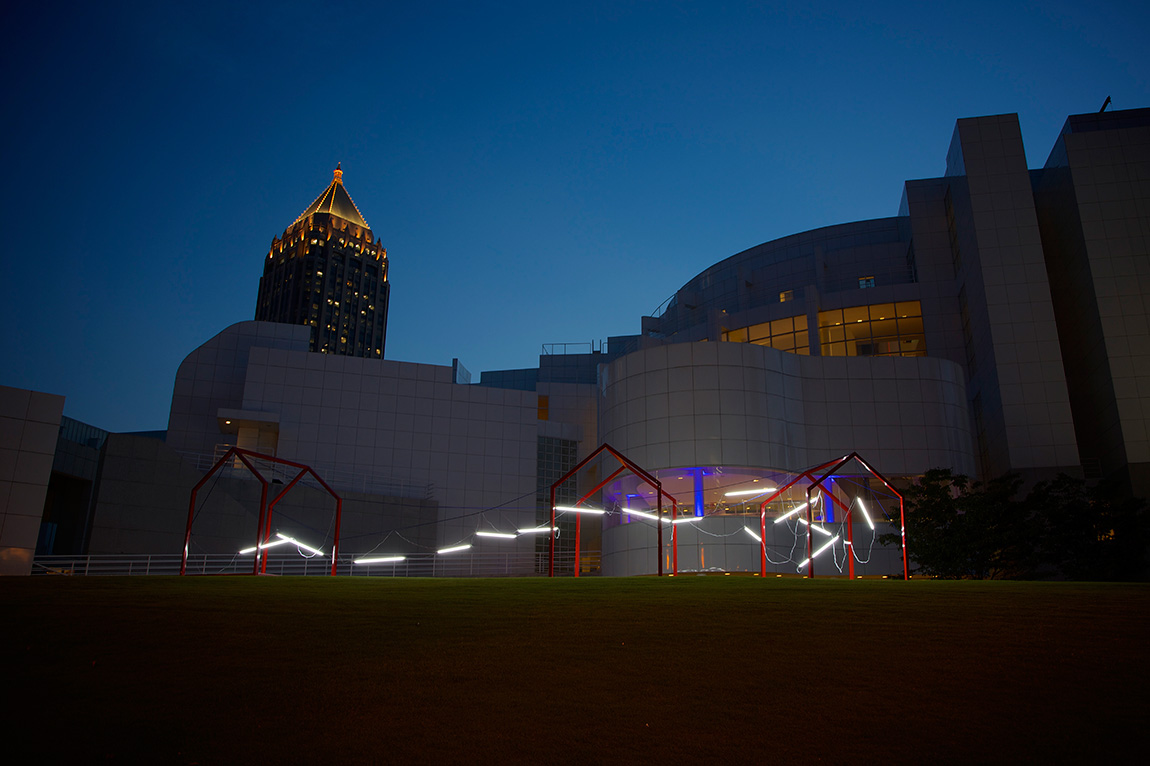 MA: What was your involvement in 'Mi Casa, Your Casa' installation at High Museum?
KB: For 'Mi Casa, Your Casa' the opportunity was in the form of a commission from a creative organization called WonderRoot. I was asked to come up with an idea for a temporary installation intervention that would coexist with an outdoor installation designed by Héctor Esrawe and Ignacio Cadena. The High Museum has to be commended for its outreach and nurturing the Atlanta arts community which is amazing.
MA: And what about the art collaboration with MINI at last year's MA design week?
KB: The concept and inspiration for the collaboration with MINI came from 'Dazzle'. Dazzle was a moment during World War I where the Americans painted warships in this pattern to help camouflage them from enemy fire. These black and white stripes was the predecessor to radar and sonar. The pattern was designed to break up a ship's mass, making it difficult to detect.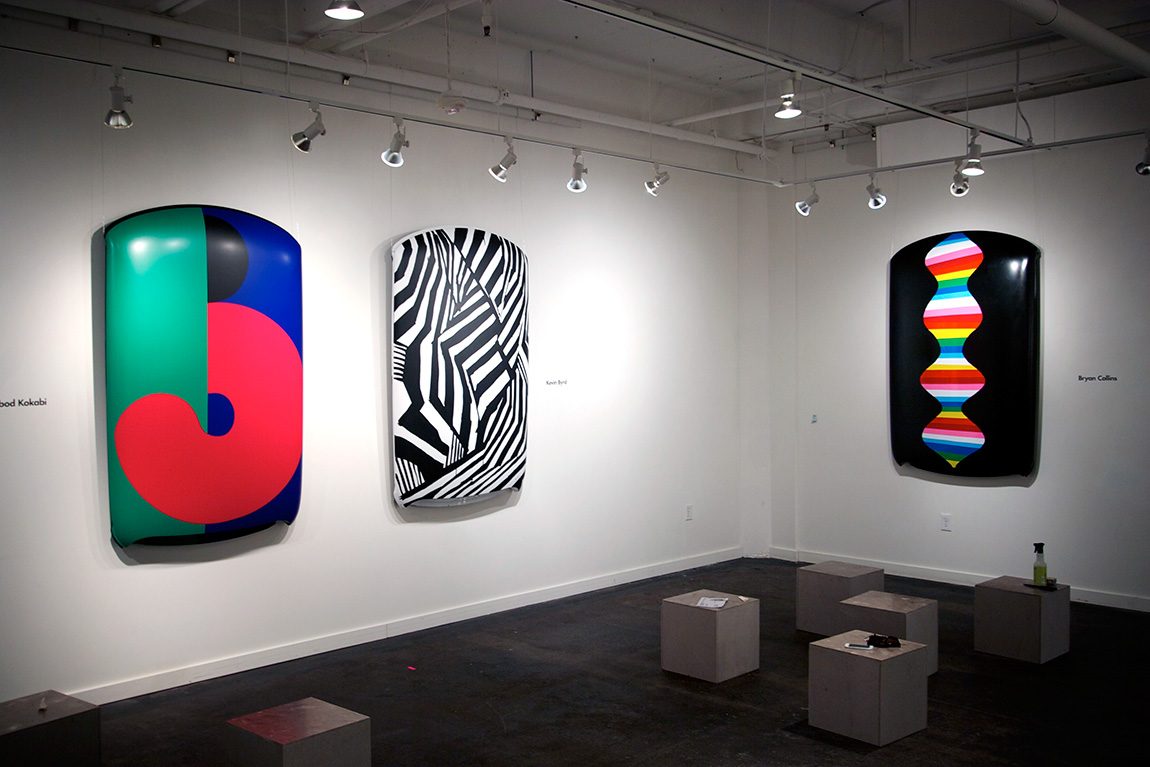 MA: What does being based in Atlanta mean to you.
KB: Atlanta is a great city and terrific place to raise my family. There are lots of emerging talent and startups calling Atlanta home, just an all round good time call Atlanta home.
MA: Thanks Kevin.
KB: You bet.
Advertisement